Industrial mixing is no small feat. And when you're handling large batches, the stakes are even higher. Today, we focus on the best industrial mixers for large batch sizes. These beasts can comfortably handle the hefty tasks thrown at them, ensuring your production processes run smoothly and efficiently. Let's delve into the specifics that make Arrow Mixing Products' mixers unparalleled in this industry.
Choosing the Perfect Industrial Stirrer for Large Batch Sizes
Arrow offers a wide range of mixers that include electric with digital readout options and pneumatic, but here are the ones that are best for large batch sizes:
Model 1200: Heavy-duty Powerhouse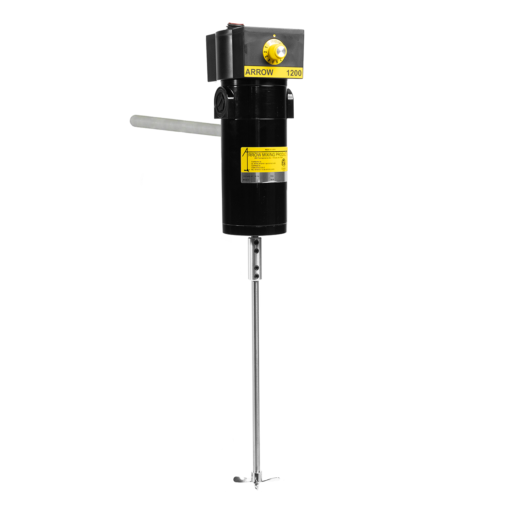 Designed for both viscous materials and large batches, the Model 1200 electric mixer excels with a capacity of up to 100 liters. Its performance metrics include:
6.6 in-lbs of torque
Maximum 1200 RPM
Power consumption: 1.5 amps
Shaft diameter: 3/8″
Weight: 13 lbs
Model 850: Versatility at Its Best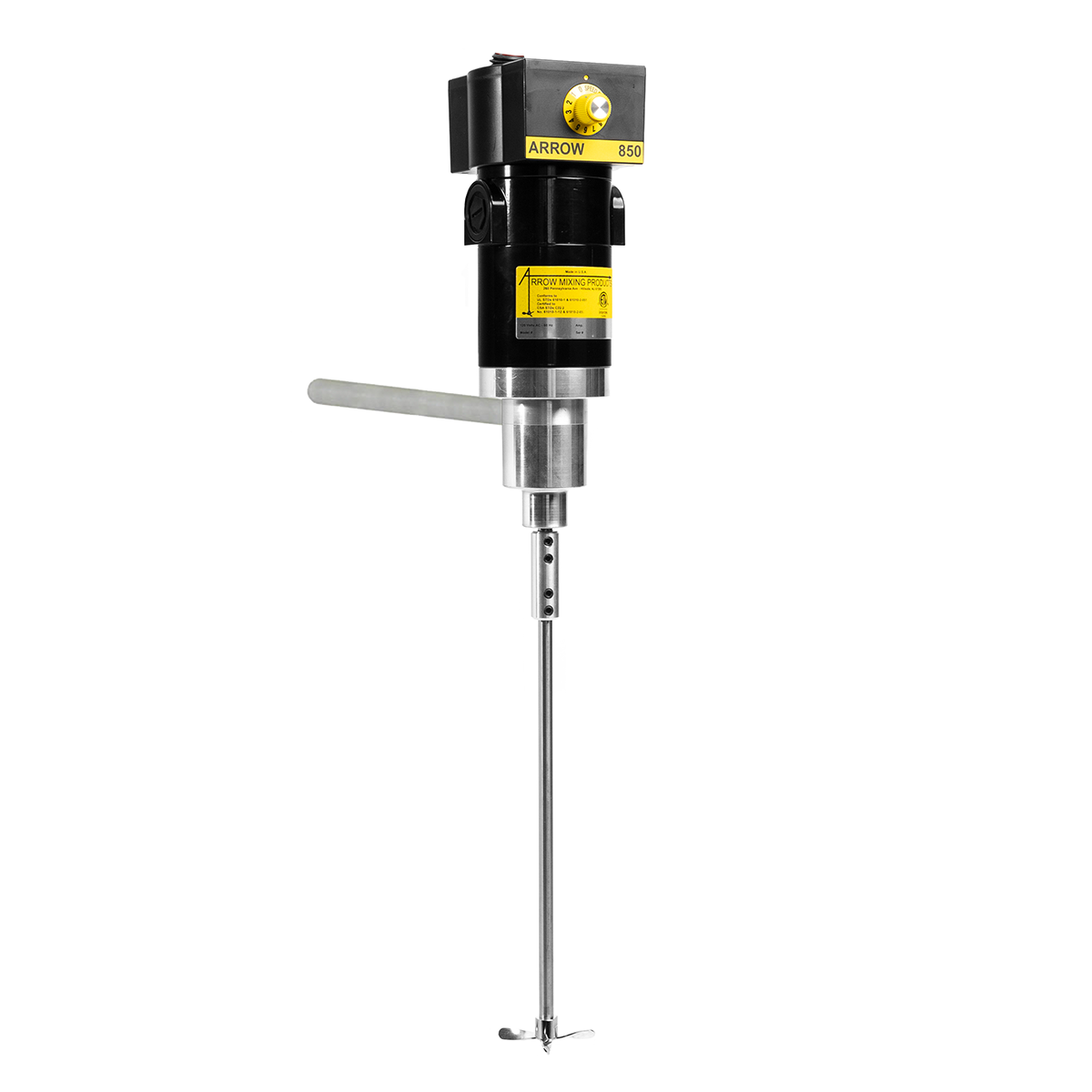 The Model 850 electric mixer is a flexible choice, balancing large batch capabilities (up to 100 liters) with adaptability for various materials. Key specifications include:
Torque: 7.35 in-lbs
Maximum speed: 1,000 RPM
Power consumption: 1.4 amps
Shaft diameter: 3/8″
Weight: 11 lbs
Model 350: High Torque Champion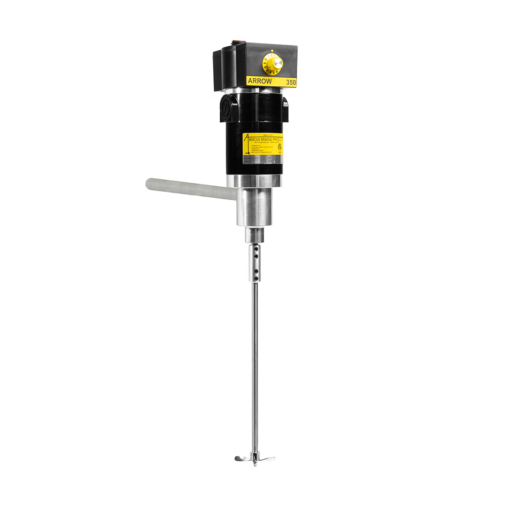 The Model 350 shines when mixing viscous materials, though its batch size caps at 50 liters. Noteworthy features include:
High torque at 14.5 in-lbs
Peak speed at 350 RPM
Power consumption: .8 amp
Shaft diameter: 3/8″
Weight: 11 lbs
Model 2000RV: For the Largest Batches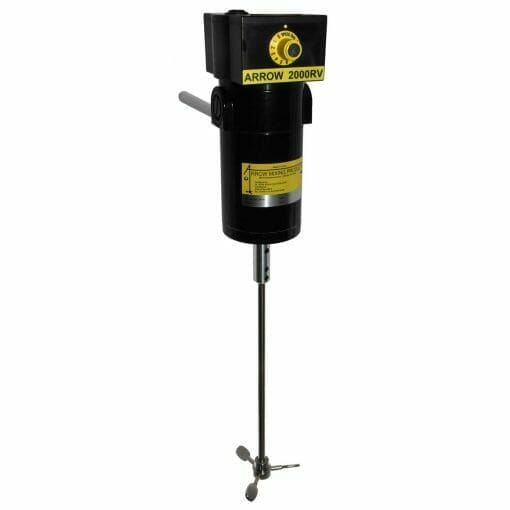 When sheer volume is needed, the Model 2000RV steps up, designed for batches up to a staggering 200 liters. Performance stats to note:
Torque: 4.6 in-lbs
Top speed: 2,000 RPM
Power consumption: 1.3 amps
Shaft diameter: 3/8″
Weight: 14 lbs
Why Arrow is Unparalleled in the Industry
Uncompromising Capacity
Arrow Mixing Products delivers a range of models designed specifically to handle such large volumes. These industrial mixers help businesses maintain consistent quality throughout, a crucial element in any industry.
Versatile Speeds
Each product requires a unique touch, and Arrow understands this. With adjustable speeds at your fingertips, you can precisely control the mixing process. This feature allows users to find the perfect balance between gentle and vigorous agitation, as well as to adapt the mixer's speed to the material being mixed. From low RPMs for delicate mixes to high speeds for more robust applications, Arrow's industrial mixers offer unparalleled flexibility in managing your mixing processes.
If you're unsure which mixer is right for your application, the professionals at Arrow are here to help and can discuss your needs and make recommendations based on your mixing needs.
Efficient Use of Time
Time is a critical element in any production process. Arrow's industrial mixers optimize time usage by reducing the time needed to mix large batches. Enhanced features such as quick mount designs and easy speed controls contribute to this efficiency. By shaving off precious minutes (or even hours) from your production timeline, these mixers contribute significantly to overall productivity.
Wide Range of Types
Every industry has unique mixing needs, and Arrow caters to this diversity with a broad array of mixer types. From pneumatic mixers for mixing flammable liquids to electric mixers for everyday industrial applications, Arrow provides a versatile selection. Each type is designed with specific applications in mind, ensuring you get the perfect fit for your particular industry requirements.
Robust Features
The best industrial mixers have features that enhance their performance and longevity. Arrow's mixers boast robust build quality, powerful motors, and advanced features such as digital speed controllers and explosion-proof designs. These aspects not only make the mixers more reliable but also contribute to their safety, giving you peace of mind during operation.
Contact Arrow Mixing Products Today
In the world of industrial mixers, size, speed, and efficiency matter. Arrow Mixing Products delivers on these fronts, providing some of the best industrial mixers for large batch sizes. Each model is packed with features that make the job easier, quicker, and safer. They come in various types, ensuring that whatever your industry, Arrow has the right mixer for you. Contact Arrow today, and take a step towards enhancing your large batch mixing processes!